Planning
We started planning at least a year before the actual trip. OneDrive Excel document for making a schedule with prices, places, booking details, tickets and adresses. It was really nice to have it all in one place. I also color coded each part to show if they were just in "planning" or actually booked and confirmed, that way once the trip started it was nice to see the entire plan in "green"… planned, booked and confirmed.
When loooking for places to see and things to do I just Googled and also used TripAdvisor to check on the hotels we booked (Hotels.com), which beaches to visit and what to see in a particular city, restaurants and shopping.
The Trip
Fort Lauderdale. Landed at 8 pm. and went directly to Alamo to pick up the car, from here we drove to the first hotel (Embassy Suites Ft Lauderdale). Very nice hotel, a bit expensive but near the airport and good breakfast included. This hotel was also close to the beach but we didn't go there until our last day where we stayed at the same hotel. In the morning we drove early heading for KeyWest. On our way to KeyWest we stopped in Florida City at the "Florida Keys Premium Outlet".. it was okay and not many people. We also visited a Wallmart Supercenter before going to the Outlet, did more shopping there than at the Outlet. Continued trip down to Key West (Best Western Key Ambassador Resort), fantastic road trip…
Couple of days in Key West and we drove up to Everglades National Park, stopped at a Gator Farm and went on an airboat trip to see the swamps, very nice and noicy. Continued to Naples (Best Western Naples Inn and Suites) were we only stayed one night, went to the beach in the morning before continuing to Orlando and our house there, booked with Florida-Villa.dk a Danish privatly owned house (more on the house under Accomondation). This was our "Base Camp" for the next 14 days. First day was shopping and getting ready and used to the surroundings and getting our tickets for the Parks (we used KGS or Kissimmee Guest Services).We were at Disney Magic Kingdom, Universal Studios and Island of Adventures, Disney Epcot Center, Seaworld Discovery Cove and Seaworld, Deaytona Beach and Kennedy Space Center. In between we had relaxation days and shopping days before the journey went back to Fort Lauderdale and the same Embassy Suites Hotel.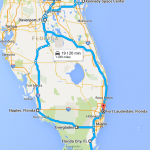 Apps
I relied alot on a whole bunch of apps during the planning and during the actual trip. Depending on who you book with and what you visit the following list is of course based on what we ended up using. Please bare in mind that should you loose your phone or have no connection you should always have a plan B. Mine was to have all the details on my OneDrive account… if you use Dropbox or something else should be irrelevant. I also like to have a plan C, so I printed most of our confirmations and had a folder with me.
Norwegian for our flights and check in, even though I had them printed as well…. plan B!!
Hotels.com for all hotel booking. It was nice to have all of them in the same place. Some of the hotels that actually have their own apps like HHonors (Hilton chain) you might get more benefit for that one stay but for us just looking in that one app with all the details was for sure better than having 3-6 different apps. You also do collect bonus nights when using Hotels.com and you can login to their web page as well to get an overview.
Insurance company (we have Tryg) app. All the details on where to call if something happens and all your details on your insurance was also good.
Navigation app. I had two on my phone both with offline maps, which is very important unless you have a good data plan with US sim card for your phone (see below under Mobile phone and data). I used the app Scout and Here Maps (nokia)…. both were okay and I mostly used them for finding shops and restaurants. Most navigation was done with my older TomTom Go700 where I had bought US maps.
Postkortet, a Danish app to send post cards… the nice thing about this one is first of all you dont need to find stamps, you dont need to find postcards (usually overpriced) and you can just use your own picture taken locally… very convenient for those 2-4 cards we sent to family and to the kids school.
CashTrails for keeping some sort of control over the cash and credit card flow going out of your bank account… which is huge. This or a similar app was for us cruicial for having control of the spendings. Eveytime we either used cash or the creditcard we posted it in the app, with a quick detail or a picture of the bill… tagging if the expense was on food, gas, entertainment or shopping. That way we could see how much we spent on different things from day to day. If money is no object then you dont need this app and you can just go crazy…
My Disney Experience this was the app that had our fastpasses which we registered the day before visiting the park… worth doing to get 3 attractions fastpasses before even getting to the park.
Other apps that I had with me were CPH Airport, SAS, HHonors, Flightradar24, CheckMyTrip, Yahoo Weather, iCloud, Wunderlist, Universal Studios, SeaWorld Discovery Guide and OneDrive.
Flights
We ended up using Norwegian for our trip. The main reason for choosing Norwegian was that they had reasonable prices with direct flights to both Fort Lauderdale and Orlando. We chose to fly to Fort Lauderdale because our first stop the next day was Key West. One of the things to keep in mind when choosing airline is that when you choose an airline that is a part of an alliance like SAS is, if you either miss your flight or it is delayed they can book you on another flight from the same alliance, this is not an option with Norwegian as they are "alone".. but because the flight was a direct flight we didn't have any stop overs that could be delayed or go wrong!!! Something worth considering if you dont have a direct flight.
Mobile phone and data
I bought a prepaid sim card for one of our phones so that we could be online. I used ReadySIM and it worked OK. I choose to get one with data and a phone number but the phone number was not necessary so I would go for just data next time. The activation and card worked fine with all apps, but for some reason normal internet browsing did not…. I didnt spend much time trying to fix that as all I needed was apps to work and because all the hotels and the house had wifi included.
Car and GPS
You can book car hire directly with the airline. I chose to book directly with Alamo. Remember to register with which ever company you choose to get most benefit and best deals. We booked for 19 days with them on Fullsize SUV and we got a Chevy Tahoe which was plenty big for us. The people at Alamo were very friendly and helpful, but this goes for most US service personell. The car we got, also had navigation built in and working but I used for the most parts my own TomTom navigation where I had already plotted in most of the places we were going to visit. As mentioned under Apps, I also had my Scout and Nokia HERE Maps… but the TomTom was far better especially when it comes to lane assist in the bigger cities, which turned out to be really nice in Fort Lauderdale which was a maze of lanes and changes.
Before the trip started I really liked to make sure I had plenty of POI's on my HERE Maps… I like to pin restaurants, beaches (where I know they have parking), hotels, streets in the city where one can park, the Parks like Disney, Diensy Springs (old name Downtown Disney), Discovery and so on. I really like the fact that I dont suddenly while driving have to start finding locations and places if I already know I'm going to visit it. I also like to have multiple options where the TomTom was best for the actual driving instructions, the Google Maps or Apple Maps can be really good when finding restaurants or shops.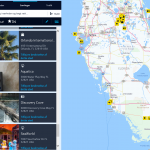 Parks and Entertainment
Disney Magic Kingdom

We had a two day pass to Disney at around dkk 3000:- for all of us per day it is not cheap. We chose to visit Magic Kingdom and Epcot. Remember to register if you have fastpass to your ticket the day before your visit… We really wanted to see the fireworks show at 11 pm. but realized that the entire day at the park was maybe a bit much, so we spent most of the day in the park.. went home to the house for dinner and a swim then drove back to the park in the evening for the "Light Parade and fireworks show"…  a full day of Disney fun. (See under shopping for tips on the Disney cloths). If you have plenty of days.. take a day off after a park day.. that way you dont stess out and you get to sleep in the next day!! All Disney parks the adult price is from 10 years and up.

Disney Epcot Center

Epcot was a much more slow paced and relaxing day compared to the main park. Enjoyed it a lot and got some fun pictures of Chip and Dale with us. Remember to go all the way in at each "destination" there is a lot to see on the inside.. we didn't realize this until late in the afternoon… The food is great at Epcot and there is something for everyone, we ate at the finer Italian restaurant while it was raining outside, good timing.

Universal Studios and Universal Islands of Adventure

At Universal we bought tickets (well in advance) for both parks and the Express Pass tickets. These tickets were expensive for the 4 of us but looking back well worth it especially if you only have one day at the park… we came first thing in the morning and didn't leave until they were closing, so we spent 11 hours non-stop in the park. The Harry Potter area was fantastic and if you have a ticket you get to ride the Train between parks (even this is fun and a ride in itself).

Discovery Cove

This is a "sister park" to Seaworld. It is quite expensive but not when you consider what you get. The park is a whole day adventure with snorkling with fishes, swimming with dolphins (extra charge) and breakfast and lunch included (actually all inclusive, so also drinks and snaks through the day). Also remember that the ticket for Discovery Cove also includes 14 day admittance to Seaworld and Aquatica parks. This whole day ticket was around 8000:- dkk for the 4 of us. This one has to be booked well in advance. Note that you can also order a private cabanna which we tried (sold out) but we were actually glad we didn't get one because you don't spend any time out of the pools or the lazy river.

Seaworld Orlando

Seaworld was something included in the Discovery Cove ticket and we went. I would not go there again after our one day visit. The orca show was nice but they are pressured to stop the show. The dolphin show was better and you were a bit closer to the action. There are also some rides here and we went to the water roller coaster. It was a very hot day so we didn't stay that long.

Kennedy Space Center

We did not order tickets in advance to the Space Center but were taking it as we went along. We ended up going here as a half day thing after first visiting Daytona Beach. It was definetly worth it and very interesting and exiting shows and tour, but I would say if your kids are under 10 and not particularly into space your wont get too much out of this place. But we enjoyed our day and there are a couple of places with some Danish newspaper clips and the flag to show the Danish involvment with the space program. Here the adult tickets were from the age of 12.
Accomondation
First and last day we stayed at the Embassy Suites in Fort Lauderdale. Good location in terms of airport and the Beach but a bit expensive. With 4 people we ordered a Family Suite which included wifi, breakfast and drinks/snacks from the vending machine (could explain the price).
Key West location was at Best Western Key West Ambassador Resort. Nice place on the east coast of Key West close to the airport (not too much traffic from flights). The pool area was greate but it was not walking distance from the main Duval Street so take the car. There is a good parking area on Mallory Square just off Duval and next to the Sunset Pier. Both Duval street and Sunset Pier are must sees in Key West.. but not very kid friendly, mostly bars and souvenier shops.
Naples, Best Western Naples Inn and Suites was fine.. OK location quite close to some shopping and the Beach (not walking distance but 5 minutes with car). This stop over was mostly just to see the west coast and to spend a day there. We ate at "The Cheescake Factory" which was greate food (I loved their hot wings, but I was also the only one eating them).
Our Villa, our home the next 2 weeks was Florida-Villa.dk ! I really didn't know them or have any experience with them but chose them because it was a Danish owned home and I could actually talk to the owner on the phone if we had any questions. Allan was fast in answering any questions and all the pictures and the homepage show really well how it actually was. Nice houser with 3 baths, 3 bedrooms a spacious living room and a full kitchen and a game room. The game room is actually the garage but no problems there, we did play some pool/billiards. There were good shopping possibilities just 2 minutes with the car and only 25-35 minutes to Disney and Universal by car.
Shopping
Outlets, make sure you register as VIP with the "Premium Outlets" as you get some additional discounts and coupons.

Florida Mall in Orlando.
Fort Lauderdale Sawgrass Mills, we never went here but we heard it is huge with a lot of stores

Wallmarts Supercenters

These were also our favorite stores… Wallmarts and Targets, very good for food and clothing items. Also has electronics like Sonos to slightly cheaper than in Denmark. The exchange rates were not too good with us during our visit but you could save about 300 dkk on a Play 1. On one our first stop at Wallmarts I believe we stayed for almost 4 hours, getting basics stuff like t-shirts, underware, socks but also NHL/NFL stuff and food… perfect shopping place and 5 times bigger than the large Bilka's in Denmark (if you go for the Supercenters and Megastores).

Target Megastores

The Target and I believe also the Wallmarts close to the Disney parks have much of the same cloths as they have in the parks but at a much better price, you can get the same t-shirt they sell inside the park for 25$ for around 15$ at Target or Wallmarts.

Ross Dress for Less

To be quite honest most of our clothes shopping (some parfume and sunglass) was done at Ross. This is the place that has a lot of the Outlet brands in it. All things are just sorted according to size. So you have a huge rack with t-shirts Men Large.. what you find hanging is what they have. You can find Nike, Hillfiger, Boss, Levis and all the other brands usually at an Outlet… just at around half the price of the outlets… We went to these everytime we had a chanse, and I think we filled 2 suitcases with clothes just from Ross.
Food
There is good food in the US, but it is also usually big servings. We quickly realized that we did not need to order starters or dessert, main dish was plenty or you would really need a doggy bag. We started by just saying we tip 20% every time, to keep it simple… and I must say that because the waitresses and waiters were depending on the tips we never got anything but good service. The Cheescake Factory, TGI Friday's, Olive Gardens and Outback Steakhouse were some of the best. Because we lived in the Villa for 2 weeks we also cooked our selves and ate breakfast at the house every morning and most dinners and some of the lunches, the lunch was often then one we ate out. But remember to keep track of your expenses … log everything or you will quickly loose track.